With good intentions and sound logic under their belt, people often find that the missing ingredient in their fitness plans is plain old motivation. In a world that beckons us to sit and stop moving at nearly every turn, turning on the adrenaline in order to break a sweat can be harder than it sounds!
After days of planning, making a schedule, and vowing over and over again that this is the workout plan that you'll stick to, the next step is to get motivated to follow through. We all need a little push now and then – here are six inspiring Facebook pages for workout motivation: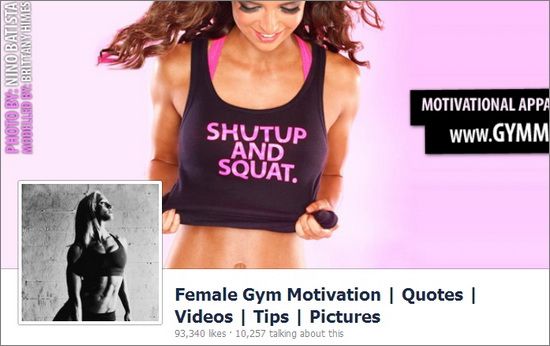 Getting pumped about getting pumped is the name of the game at this Facebook page, a place on the web that is full of a wide range of motivational materials for girls who like to workout. Before and after pictures, inspirational quotes, photographs, and more focus on the gym experience, offering a wealth of information whether you're investigating the best gym machines for your fitness goals or looking for useful tips on getting the gym experience at home.
Besides boasting nearly 100,000 fans, this page has the added benefit of being highly active, with upwards of 10,000 people chatting during any one week, making this a potential one-stop-shop for workout motivation on Facebook.
A certified personal trainer, Lyzabeth Lopez is also a gymnastics instructor and something of a fitness celebrity, standing as a role model for women at all stages of their fitness endeavors! As busy as she is in the fitness industry, Lopez serves as a deep source of inspiration herself, instantly showing exactly what you can do with the right amount of know-how and work ethic, and following her updates on Facebook will bring that inspiration directly to your desktop.
Lopez's credentials have earned her a huge following of more than 125,000 Facebook fans, making this a very happening place for ladies who are looking to jump aboard the motivation train! With each post featuring a long line of comments, there are like-minded friends to be made here, each one of them with the potential to provide the best source of motivation possible!
Run by physical trainer Micky Marie Morrison, this Facebook page is a home for motivation for women who are interested in reclaiming their beautiful bodies after giving birth. Given how tough it can be to get motivated to workout with a tired body and a new baby, the information and inspiration offered here gets right to the point of teaching you how and why postnatal fitness is so important.
An excellent question and answer format is one of the focuses here, with Morrison taking questions from fans and giving honest, detailed and very useful answers as she quotes postnatal fitness statistics and real life examples in order to get her points across. These information sessions are offset by the standard motivational quotes and images, making this one of the most well-rounded sources for postnatal fitness inspiration on the web!
Chock full of fitness tips, motivational quotes and general chatter about all things exercise, the Facebook page of certified personal trainer Marc Fitt is a great place to obtain some instant inspiration for your own workout habits, especially for men. With nearly 80,000 fans, you'll also find a good amount of active conversation revolving around fitness and working out, giving you the ability to connect with everyday exercisers, too.

With information and inspirational material covering everything from working out to a healthy diet, this page is a great source for anyone who wants to update their knowledge with the latest news in the fitness niche, while getting a boost of motivation at the same time!
If you need a kick in the pants more often than not when it comes to working out, the fast and furious pace of content additions at the Free Fitness Tips page will be an invaluable addition to your Facebook stream; with more than 2,000 fans and hundreds of people involved in conversation at any given time, you'll be in good company!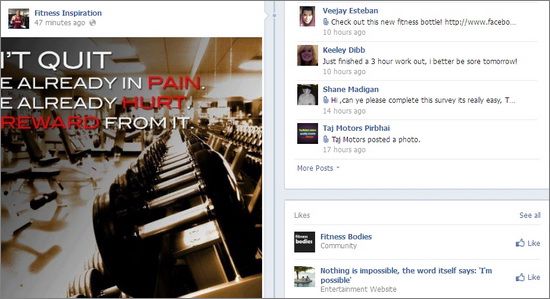 Enough with the tips, recipes and personal stories – this is the best place on Facebook for straight up, no nonsense motivational quotes, pictures and before and after photographs! If you need a quick fix of inspiration without the filler, these at-a-glance posts will be just right for you as they work their way into your Facebook feed, providing you with the mental energy that you need to get moving right away.
Author Byline: This post was written by Anna Fox, who writes about fitness and extreme diets, and is passionate about healthy food, active lifestyle, and self-improvement.